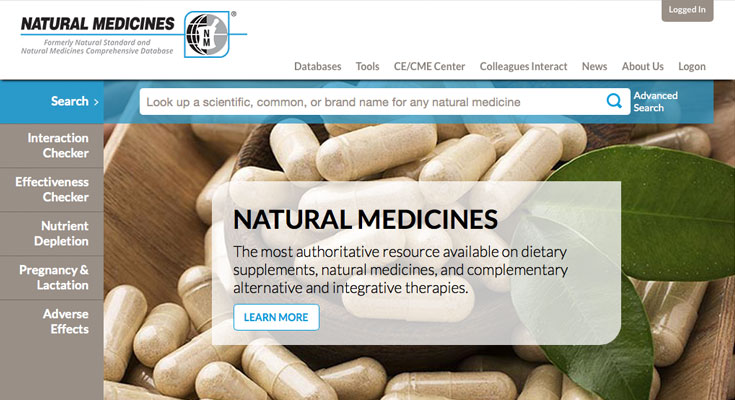 Natural Medicines is the most authoritative resource available on dietary supplements, natural medicines, and complementary, alternative, and integrative therapies. Our newly enhanced product provides the best features and functionality from both Natural Standard and Natural Medicines Comprehensive Database, as well as new clinical features that weren't available before.
Current and new features include:
Over 1100 Natural Medicines Ingredient Monographs.
90,000+ Commercial Dietary Supplement Products.
Evidence-Based NMBER® System for all Commercial Products.
New and Improved Checkers and Tools.
Patient Handouts in English, Spanish, and French.
Enhanced Health & Wellness Monographs.
Sports Medicine Monographs .
Natural MedWatch Adverse Event Reporting System.
Evidence-Based NMBER® System
NMBER (Natural Medicines Brand Evidence-Based Rating) allows you to quickly assess safety, effectiveness, and product quality on over 90,000 commercially available natural medicines and dietary supplement products. Each product is given an evidence-based, scientific rating from one – ten with 10 being the highest.
Natural MedWatch
Natural MedWatch gives practitioners a quick and easy way to report adverse events related to dietary supplements. When evaluating adverse effects related to supplements, you can generate an adverse event report with just a few clicks. Reports are shared with the FDA and enhance our knowedge about supplement safety. Plus they can also be easily printed for patient charts.
NEW! CE Center
Our new CE Center will provide users with the ability to receive CE/CME credit. Courses will include 30+ clinical management-focused programs on common disease states such as osteoarthritis or depression and 100 natural ingredient programs based on monographs.