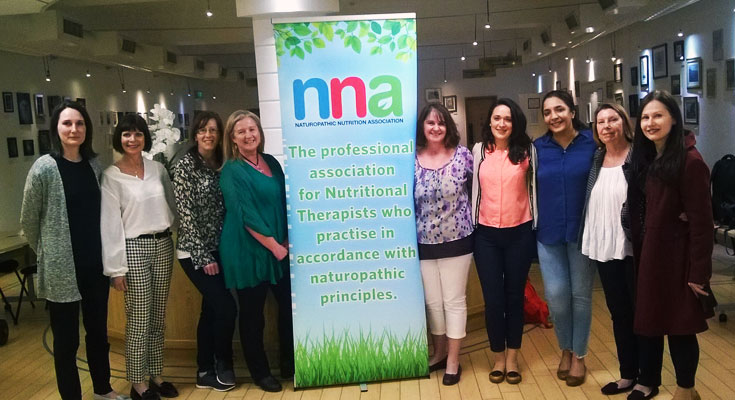 Meet the NNA Committee
Caroline Peyton, ND, Dip NHC NNT, MNNA – NNA Chair
Caroline graduated from Kent University with a BA (Hons) in Management Science, following which she spent 20 years working in several areas of the corporate sector. She knows from her personal experiences the stress and pressure of working life today and the impact this may have on health and well-being. Caroline became disillusioned with corporate life and wanted to find a better, healthier balance to her life. She retrained with Natural Healthcare College and is a fully qualified Naturopathic Nutritional Therapist, Naturopath and Iridologist with practices in the Swindon and Cirencester areas. Caroline is now Principal of the Natural Healthcare College and married with twin daughters. Caroline's main hobby is riding and competing in one day events on her horse Rolo.
Jackie Day ND, MH, DNI, FNNA, FGNI, MAMH – NNA Fellow
Now retired, Jackie incorporated Naturopathic Nutritional Therapy, Herbal Medicine, Iridology and Stress Management into her naturopathic practice based in the Dartmoor National Park, where she can indulge her love of nature and animals. She was the founder of the Natural Healthcare College. Jackie has extensive experience in corporate and manufacturing sector management, working with both small and international companies. She has several years experience in the management of CAM professional bodies and was a Council member of the Guild of Naturopathic Iridologists (GNI), and the General Naturopathic Council (GNC) . Jackie was part of the GNC team that in 2009 revised the Core Elements for Naturopathy and established the Naturopathic National Occupational Standards.
Sam Downton Dip NHC NNT, MNNA CNHC – NNA Registrar
Sam became interested in the benefits of using food as medicine after significantly improving her own asthma & IBS symptoms using nutrition to heal the body and understanding which foods were causing her body to become 'congested'. After qualifying from Natural Healthcare College as a Naturopathic Nutritional Therapist she set up her practice in Newport Pagnell and is passionate about working with her clients to educate & empower them to make choices using up-to-date and relevant nutritional advice which benefit their health and natural balance. Sam is currently training to become a Master Iridologist with Holistic Health College and plans to expand this area into her practice. Outside of nutritional therapy Sam loves to spend time with her two children and husband as well as train at the gym and run; she has completed a number of marathons.
Caroline Gilmartin Dip NHC MNNA – NNA Communications and PR
Caroline originally trained as a lawyer gaining a Law degree and Masters in International Business Law from Manchester University. She worked in London for 15 years in Banking and became interested in nutrition due to her own health problems and those of her family. After qualifying from Natural Healthcare College as a Naturopathic Nutritional Therapist she set up Nutraclin in Kent and London. She uses iridology in her assessments and specialises in stress using a Heart Rate Variability machine to assess the autonomic nervous system. She is married with two young children which keep her busy and has a big passion for travelling.
Annabel Caulfield Dip NHC NNT, MNNA – NNA Secretary
Annabel originally studied Education to Masters level, and worked in Higher Education for over 20 years. Having struggled with her weight, and suffered with migraines and digestive problems herself she decided to explore the field of naturopathic nutrition for some answers, and has never looked back. After 3 years of study with the Natural Healthcare College, she is now a fully qualified Naturopathic Nutritional Therapist and operates under the banner of Purple Vitality in the Milton Keynes area. She has a particular interest in helping women whose children are growing older revitalise themselves by offering them individualised diet and lifestyle programmes. Outside of work she loves to spend time with her two boys, practise yoga and has a passion for writing.
Lindsay Powers, Dip NHC NNT, MNNA – NNA Treasurer
Lindsay graduated from Nottingham Trent University with a BA(Hons) Humanities and went on to have a demanding career as a manager in the Logistics industry for some years. Lindsay then decided to leave her career to be a full time mum to her two daughters. During this time she developed an interest in nutrition as she began research food and nutrition for her children. Taking this a step further she decided to turn her new found passion for nutrition into something more formal and completed her Naturopathic Nutrition Diploma with the Natural Healthcare College. Lindsay now practices Naturopathic Nutritional Therapy in the Portsmouth and Southsea areas of Hampshire and is also embarking on an Iridology diplma which she hopes to bring into her practice in the future.
Ailsa Sargent Dip NHC NNT, MNNA – NNA newsletter co-ordinator
Ailsa is a graduate of Natural Healthcare College. In her twenties she was chronically unwell and after several years was fortunate to meet a Naturopath whose advice led to a speedy recovery, so began a passionate interest in health through natural methods. During her career she has run several businesses amongst them a Natural Food Store. After several years living and working in Amsterdam, her last venture was in the UK as owner of an award-winning restaurant.
Cora Weekes ND, Dip NT CNM, MNNA – Mentoring, webinars, GNC representative and upgrade scheme
Wanting to understand how things work in our world, Cora initially studied physics, and gained a MSc. in physics engineering, then moved on to a career in Information Technology. After her daughter was born in 2004, she realised the importance of natural health and good nutrition, and how these give us not only more enjoyment and physical wellbeing, but also impart a deeper understanding of our place in the world. She retrained with the College of Naturopathic Medicine and is a fully qualified Naturopathic Nutritional Therapist and Naturopath with practices in Chatham and Maidstone, where she enjoys educating and empowering her clients to improve their health and wellbeing. Outside work, Cora enjoys spending time with her family, reading and researching on spiritual practices, and playing the banjo.
Kiowa Reynolds Dip NT CNM MNNA - NNA Social Media
Kiowa hashad a long battle with ill health, being chronically ill from a pre-teen in toher early 20's. This struggle and subsequent journey back to health was thecatalyst behind her decision to pursue holistic medicine as a career. Kiowaqualified as a naturopathic nutritionist from the College of Naturopathic Medicine London. Since graduating she relocated to Spain where she practised as a therapist and ran an allergy and sugar free baking business. She now practices in Kent and has a special interest in the gut-brain connection. Kiowa has experienced first hand the amazing benefits that a holistic approach can achieve and is passionate about her work. Her personal interests include reading, cooking, drawing and travelling.